Powerful kicking is in internal martial arts established by power actions being rooted in the stillness and solidity of the torso. One cannot find torso stillness without developing the easy use of rooted vitality in the legs that generate the "internal " as an expression of waist actions.
Ones technique is limited only by our strength of desire for large physical expression.
Keep the body in balance by joining the muscles together to improve solidity and ease of purpose. The basis of a good kicking action is generated by the elasticity of the waist and dynamism of the supporting leg. Regulate your breathing. Do not grasp onto balance or thrust out with one joint. If you practice hard at an advanced stage of kicking you can allow the mind to effortlessly impinging on each technique to guide the body into harmony.
Be meditative, develop self-familiarity and skill in reflective awareness.
The young like to kick,
the elderly are less inclined
-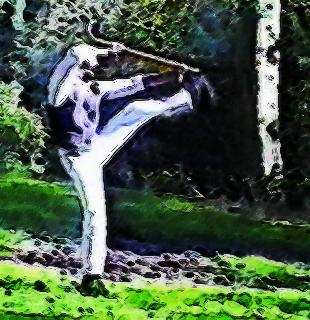 to sail through the air at head height.