The No-Mindness Approach in Weapons Practice
The thing is not to try to localise the minds intent but to allow it connect to the whole body by non interference. Simply let it flow throughout the totality of your being! This can happen without effort! When it happens you use your hands, legs, eyes etc.. when they are needed and no time or extra energy will be wasted. Further have no deliberation, or no discrimination. Instead of localising (imprisoning) or burdening ones intent, let it go all by itself, freely. Then each transition will be clear, unhindered and uninhibited. It is only when this done that the mind is ready to move, that the spirit of unity and will, action or inaction occurs with no "stoppage" anywhere.
Technically until spontaneous action can be achieved, it is common practice is to place the mind upon ones breathing. The lower abdominal area (tan-t'ien) is generally emphasised at the fundamental levels of training because the deep breathing develops energy as well as strengthening calmness of spirit.
The term "mind" has a broader meaning than simply the mental process of thought but also includes the heart, intellect and disposition.
.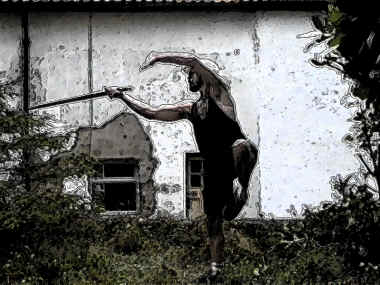 A state of "no-mindness" can be analogised, as the reflection of the Moon in a Pond. Neither the Moon nor the Pond possesses any preconceived notion of producing a reflection.
The moon has no intent to cast its shadow anywhere nor does the pond design to capture the moon: However serene the moon and water are producing a reflection which is free from artificial schematics, everything is left to complete itself through nature.
~There is no Sword no reflection no action~